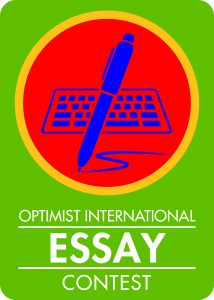 2022-2023 Optimist International Essay Contest
Topic:
"
Who is an Everyday Hero that Brings Out the Optimism in You?"
District Essay Chair:
Dot Sayer
Email: dotsayer57@gmail.com
Cell: 770-823-2923
The Essay Contest is sponsored by Optimist International to give young people the opportunity to write about their own opinions regarding the world in which they live. The approach can encompass a young person's personal experience, the experience of their country or a more historical perspective. In additional to developing skills for written expression, participants also have the opportunity to win a college scholarship!
This contest is open to students under the age of 19 as of October 1, 2022 and who have not yet completed secondary school or its equivalent. There is no minimum age. Essays must be typewritten and double-spaced and contain not less than 700 and no more than 800 words. Works of fiction or poetry are not eligible.
Zone winners advance to the District contest to compete for a $2,500 college scholarship. The District level scholarships are funded by the Optimist International Foundation.
Contest Deadlines:
Club to Zone: must be received by Lt. Governor by Jan. 31, 2023
Zone to District: must be received by Dot Sayer by Feb. 28, 2023
District to OI: must be received at OI by April 15, 2023
Items in Your Club Entry Packet:
Optimist International Essay Contest Application for 2022-2023 – Must be signed by contestant and parent or guardian

District Essay Contest Entry Form – Must be signed by contestant, Club Essay Chair and Club President.

Legible Copy of Birth Certificate or Passport

Typed Copy of Essay

A Check for $35 Made Payable to Gateway District Optimist International
Optimist International Resources:
To download Rules and application form, click here
For the Essay Contest Program Package, click here
To download the Club Planning Guide, click here