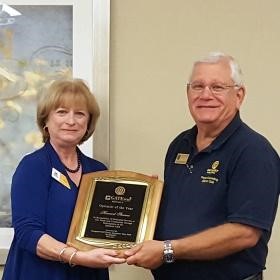 We are proud to introduce the 2017 "Big John" Ware Optimist of the Year Mr. Howard Shames.
A member of the Forsyth-Cumming Optimist Club, Howard is a dynamo of energy and ideas. An Optimist for a little over three years, He has utilized his experience as a former corporate CEO to help his club as well as others increase their efficiency and effectiveness in carrying out their internal operations as well as improve and expand their service programs.
As District Public Relations Committee Chair and a member of the Marketing Committee, Howard's keen understanding of business and marketing strategies lead to the development of the "Club Marketing Kit". This simple, innovative approach to club marketing is helping to revolutionize how Optimist clubs market themselves and expand the Optimist brand. This kit is being considered for distribution to clubs throughout the Optimist organization.
Howard is also the architect of the very successful "Let's Defeat Childhood Cancer" IHOP program. He developed and initiated this program, bringing together his club and the local IHOP franchise in Cumming to run a month-long campaign that raised over $3,400 in donations for Optimist International's Childhood Cancer Campaign. Howard is now training and assisting other clubs in developing similar programs in their communities. The success of the program has the IHOP Corporation considering the possibility of partnering with Optimist International to do a similar program with all their franchisees.
This program is also being expanded to include a "Children are Our Future" campaign to raise funds for Optimist International's scholarship programs (Oratorical, Essay and Communications Contest for the Deaf and Hard of Hearing). Howard, working with the Optimist International staff and several GATEway District Clubs plans to launch a pilot program in the Fall of 2017.   
To assist the GATEway District in developing a strategic plan for its future growth, Howard conceived and implemented "The Governor's Advisory Council". Made up of the Governor, Governor-Elect, two immediate Past Governors, and four members at large Howard is facilitating this group in developing an effective and sustainable plan for the District's future growth and development.
Along with his District duties Howard presently serves at the International level as the Chair of the Fundraising Sponsorships Committee. This committee is charged with seeking out and securing funding and sponsorships for all of Optimist International's programs such as Junior Golf, World Oratorical Championships, etc. The Committee is also working with the Optimist International staff and Districts to develop strategies for implementing fund raising programs at the Club level through Club/corporate partnerships.  Howard is a shining example of what an Optimist of the Year should be!